Contribution to the implementation of technological innovations in improving the security of Spanish rail system
24/02/2014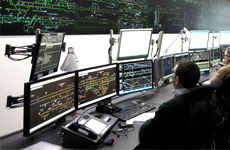 Author/s: José Perlasia Giol
At the same time the in the carriage o passengers and good by rail, traffic safety is most important quality factor for society in general, for governments of the countries and to the managers of this transport.
In the evolution of the railway in Spain from 1848 to today has evolved dramatically and especially since 1975 during which time nearly 40 years has completely changed the management system circulation going from putting almost all the responsibility on the human factor in many implementation rules to the command and control modern signalling systems based on traffic management that have allowed total crashes reported annually has decreased in a spectacular way and especially those related to collisions train which is a class of accident whose consequences are of the utmost gravity for her involvement with the persons and property of the railroad.
This article aims to briefly explain what has been the evolution of locking systems train their movement within the stations which have been the technical means and security systems to prevent human error and the implementation of modern traffic management systems and centralized independent in markedly reduce the risk of human error.
Fundamental paper presents two graphs, the first concerning the evolution of all traffic accidents in the 40 years cited in particular collision and the second reflecting the different stages of that period as has occurred cause­effect relation ship between the implementation of the media and the corresponding reduction, witch has been made possible by sophisticated locking systems ,interlocks , of driving aids such as ASFA radio communications and centralized traffic control.
The discussion and analysis focus exclusively on Spanish railways Iberian gauge (1,668 m) and the period from 1975 to 2009 regardless of the high speed is not the subject of the article.
Keywords: Level of railway safety, Block system trains, Innovation technical, Notice automatic braking signals, Moment of level crossing, Track twist, Automatic block banal, Leveling defect track, Interlocking, Centralized traffic control, Implementing, Accident reduction, Frequency index, Railway system, Technical failure, Human factor, Train collision, Radiotelephone of trains.
Publication: Vía Libre Railway Research nº 8 - November 2014, pp. 55-80
Download paper »
---