The Impact of the Regional Railway Management - The Ferrocarril de La Robla and the Tua Line cases
16/10/2015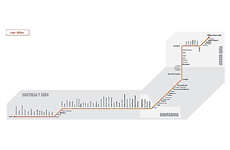 Author/s: André Pires, Francisco Diniz
The strategic guidelines adopted in the last three decades for the railway sector in Portugal contributed for the progressive closure of the national rail network with particular focus on regional rail transportation. In 25 years, only a section of previously closed line has been reopened to rail traffic in 1995 and it was a section of the Tua line between Carvalhais and Mirandela (4 km). The portuguese reality is in strong contrast with the european one where regional railways are a fundamental and integral part of a transport network and it plays an important role in mobility, economy and local and regional development.
In Spain reopens in 2003, after being partially closed in 1991, the Ferrocarril de La Robla. This paper presents a comparison Portugal and Spain, in what concerns to regional railway having as study cases the Tua Line and the Ferrocarril de La Robla. The methodology is qualitative and is a descriptive-comparative study. The data collection method consisted not only in document analysis and literature review but also in a semi-structured interview made to a Professor and Researcher in Transport Economics from a portuguese university. The final considerations show that the reopening of Ferrocarril de La Robla in its full length, contributed to improve the transportation of goods and passengers, potentiate railway tourism and it was a catalyst to the creation of new cultural and economic activities surrounding the railway reality. In opposition to this reality, the gradual closure of the Tua Line has brought negative consequences to the municipalities that it once served.
Keywords: Strategic Guidelines; Regional Railway; Linha do Tua; Ferrocarril de La Robla.
Publication: Vía Libre Railway Research
Download paper »
---