Proposal for the development of the U.S. high speed railway (USHSRS)
21/11/2014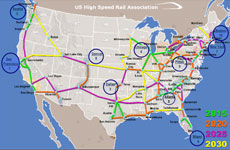 Author/s: Luis Fort López-Tello, Carmen Fort Santa-María
The purpose of this article is to continue developing the concept of the plan for the creation of a national system of high speed rail infrastructure presented by the U.S. High Speed Rail Association, on the occasion of the release by the President Obama of its first phase.
The development of the national Plan is proposed be done from ten Poles, starting by the Pole of San Francisco, origin of the national system USHSRS, with the Farwest Project which develops the High Speed Railway of the State of California (CHSRS) and the Canevar Project, focused on the high speed connection of the California system with those of the states of Nevada and Arizona.
The estimation of the investment required for the execution of the national plan USHSRS with a net of 17.000 mile, is 600.000 M$. The Farwest Project develops a net of 800 mile with a cost of 34.820M $ and the Canevar Project with 735 mile and 26.557 M$ investment.
Keywords: High-Speed, Railway Transportation, Planning, United States.
Publication: Vía Libre Railway Research
Download paper »
---