Can a high speed commuter rail be justified? The Galician case
17/03/2014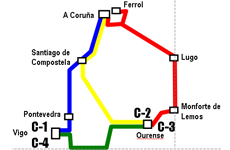 Author/s: José Enrique Villarino Valdivielso
This article is divided into three sections. In the first section, it presents Galicia's population and territory models. It also presents the limitations that the deployment of a commuter type rail services with high transport capacity, high frequencies and travel times which are competitive with other transport modes.
The second section discusses the distortions that such a service can have on the operation of the commuter rail services, with large average distance travelled, which require programming long train trips, which entails great costs because of the low load factor, due to a low recurrent mobility. To these costs, it is necessary to add the additional costs which will be incurred as it will be required to operate an important percentage of the offer with Avant type vehicles which have high costs of investment, maintenance and operations.
The third and last section warns the authorities of the unavoidable expansion of the already large deficit, if the current services are transformed into a commuter type operation, as it is done in other Spanish regions, recommending not to adopt such decision, which would be equivalent to look to the other side so as not to see the unsustainable effects, moreover with the current systemic crisis.
Keywords: Galician, Commuter, High Speed, ​​Rail.
Publication: Vía Libre Railway Research nº 8 - Noviembre 2014, pp. 145-162
Download paper »
---