EIDOS system
10/02/2012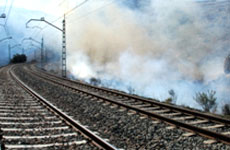 Author/s: Francisco Cebrián Gómez
EIDOS system (Computer Equipment Destined for Orientation and Safety) comes from the intention to provide support, on this occasion, to train operators, about the possibility of occurrence of fire near the railway on which the train must move. The priority is to facilitate the machinist the visualization of how the fire develops (as well as other relevant information) using any mobile device.
The objective to be achieved is the creation of an interface that should always inform the user in every moment and the most efficient way possible.
Keywords: EIDOS, train, fire, interface.
Publication: Vía Libre Railway Research Nº 3 - February 2012, pp. 149-162
Download paper »
---