Optimization of the wheel truing approach for the Alstom Citadis 302, in the West Light Rail network
29/04/2015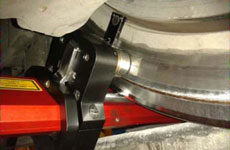 Author/s: Mª Victoria Alba Díaz
The aim of this paper is to provide the development of an optimized wheel truing approach for the fleet of Alstom tramways in the West Light Rail network.
This new policy of tread maintenance has been designed to increase the wheels lifecycle and to assure the fulfillment of the safety requirements established by the manufacturer. It includes an intermediate measure of the wheel parameters with a laser device to evaluate the state and therefore, carry out a predictive maintenance instead of preventively. In addition this approach redefines the wheel critical parameters and the periodicities of the associate tasks of maintenance.
Keywords: Railway wheels, tread maintenance, truing, Citadis.
Publication: Vía Libre Railway Research Nª 9 - April 2015, pp 29-38
Download paper »
---