How high speed has allowed the development of national rail industry exports (I). The case of rolling stock
23/05/2012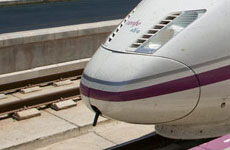 Author/s: José Luis López Gómez
The Spanish company Patentes Talgo has designed and manufactured the AVE 102 and 112 series high speed trains, which together constitute the largest series of high-speed vehicles in Spain. It is also responsible for 250 km/h high-speed trains in the 130 series and their dual derivative, the 730.
This article shows how the decision to establish high speed in Spain was a necessary condition for the Talgo company to develop these high speed products that allowed the export to Saudi Arabia and with the prospect of exports to other countries.
Keywords: High speed, export, rolling stock.
Publication: 360.high speed magazine Nº 2 - May 2012, pp. 53-56
Download paper »
---