Inspection system for train pantographs based on computer vision techniques
04/07/2013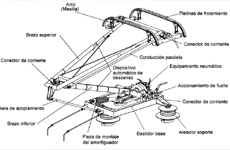 Author/s: Ícaro Álvarez Giménez
The pantograph is the mechanism that acquires the energy necessary to power the electric motor of a train. Currently,maintaining of pantograph of trains is performed manually, requiring switch off the catenary power and an operator climbing up to the train. A damaged pantograph could damage the catenary infrastructure and the consequent closure of this route until the repair is done.
This projects aims, through computer vision techniques, carrying out the pantograph inspection autonomously, fast and accurate, reducing risks, human error, maintenance time and therefore making a significant competitive advantage.
Keywords: Pantograph, train maintenance, computer vision.
Publication: Vía Libre Railway Research Nº 6 - July 2013, pp. 23-32
Download paper »
---