Representation of meteorological data in the railways operation. Lightning strikes detection
01/10/2012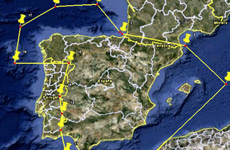 Author/s: José Gómez Castaño
Within the rail related operations, meteorological data are increasingly application. Solutions have traditionally been developed based on cooperation agreements between railway companies and AEMET (Agencia Estatal de Meteorología). With availability through server AEMET details of new products, both prediction and observation, there are very reliable sources with very low cost. This opens a wide spectrum of possibilities, complementary to existing ones.
This paper shows how to develop a system that allows the use of data automatically from capture from AEMET servers until publication.
Keywords: SIG, meteorology, lightning.
Publication: Vía Libre Railway Research Nº 5
Download paper »
---