Graphic Memory of the Spanish Railway 2015-2016
22/07/2017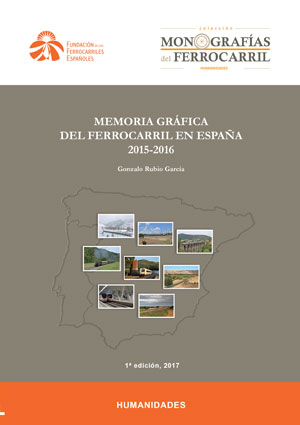 Author/s: Gonzalo Rubio García
This monograph examines the reality of the railway during two years in which numerous changes took place: the Spanish railway moves forward toward the future in an unstoppable way, but it does not forget the past. New high-speed lines have been opened, and with them, many stations. The railway, in constant evolution to meet the demand of social reality, increasingly reaches more towns and neighbourhoods, abandoning halts that have fallen into disuse due to the new demographic conditions.
A large part of this Memory focuses on passenger and freight services operated by Renfe, but there is also room for tourist trains chartered by Renfe, Fundación de los Ferrocarriles Españoles (Spanish Railways Foundation) or associations of friends of the railway, as well as for private freight operators.
Finally, passenger services that no longer exist, both those which marked a whole era in the Spanish railway and others that were temporary to serve specific events or meet particular needs, are also included. The difficult time rail freight transport is going through is also covered, with two examples of freight trains that have stopped running on the network, a reflection of some other traffics that are already a thing of the past, either because they have transferred to road or because the companies which needed them have gone bankrupt.
Keywords: Graphic memory, railways, Spain
Publication:
Download paper »
---