Engineering and technical aspects of the construction of the high-performance freight rail line in Extremadura and its effect on the economic competitiveness of the region
28/12/2016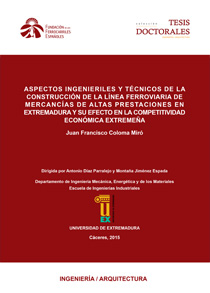 Author/s: Juan Francisco Coloma Miró
The Panama Canal expansion expected by 2017 will allow the passage of large cargo ships coming from the Asian ports. The anticipated increase of freight traffic in the ports of Sines and Algeciras will require comprehensive reconditioning of much of the peninsular railway infrastructure.
The Badajoz-Cáceres-Madrid high-speed line designed for passengers-freight mixed traffic is under construction with no scheduled date for commissioning, so the remodelling of the Sines-Badajoz-Puertollano conventional rail line will be necessary in order to allow the transport of the goods to Brazatortas and their subsequent distribution to the rest of Spain.
This research analyses the current situation of the Badajoz-Puertollano conventional railway line, the investments required to turn it into a high-performance freight rail network and their scheduling. A socioeconomic study is conducted to assess the effect the corridor would have, both in its construction and commissioning phases, on the production and the employment of the Autonomous Community of Extremadura. The research carries out an environmental analysis quantifying CO2 emissions and evaluating the cost savings that would be generated attracting part of the freight transport currently done by road.
The research concludes that the remodelling of the Badajoz-Mérida-Puertollano conventional railway line would allow the transport of 3.1 million tonnes per year, which is the prognosis of freight traffic expected for 2019, with an investment of 160 million euros in 300 km of non-electrified single track. Each euro invested in this corridor generates a return of 2 euros for the Extremadura production system, creating 4,100 jobs in 3 years. The commissioning of the corridor eliminates 863,000 operations of trucking in 5 years, reducing emissions by 59% in diesel traction and by 82% in electric traction.
Keywords: Engineering, architecture, Extremadura, freight, railway line
Publication:
Download paper »
---