Fault diagnosis in track circuits based on fuzzy models
17/12/2012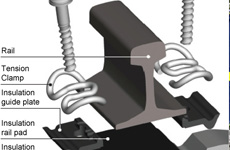 Author/s: Nuno Silvério Barrento; José Maria Coutinho Guerra
The vast importance of people and goods transportation through the railway system is due to factors such as speed, safety, economic and environmental.
Being trains detected/"located" by electrical circuits (called track circuits) using the rails as transmission medium, its operation is affected by changes in track impedance, imposing great susceptibility of operation and high failure rates.
Considering that the fault diagnosis method is modelbased, fuzzy models will be used in this approach. When all process parameters are not known, the use of fuzzy models can be a good choice for modeling. The fault diagnosis in track circuits using fuzzy concepts can contribute to improve the performance indexes of railways, enabling early detection of faults.
Keywords: Fuzzy modeling, fault diagnosis, algorithm, control, model, track circuit, signalling, railway, track, reliability, availability, safety.
Publication: Vía Libre Railway Research Nº 5
Download paper »
---